One of my goals for the new year is to sew more capsules. This is where I make 5-6 items that all can be mixed and matched to make several different outfits. I like sewing these groupings because they always get lots of wear. Nothing is an orphan, each piece has something to go with it. I usually like to make two pair of pants, two tops, and a topper (jacket) of some sort. For this wardrobe, I've chosen to make three tops.
Another one of my goals is to sew up 25 yards of fabric for the Patternreview.com stash contest. So, by combining these two goals, I have chosen some stashed fabrics that work well together and pulled out patterns to make each fabric into something that can be mixed and matched. Not pictured is some black ponte roma knit.
The first piece is the jacket: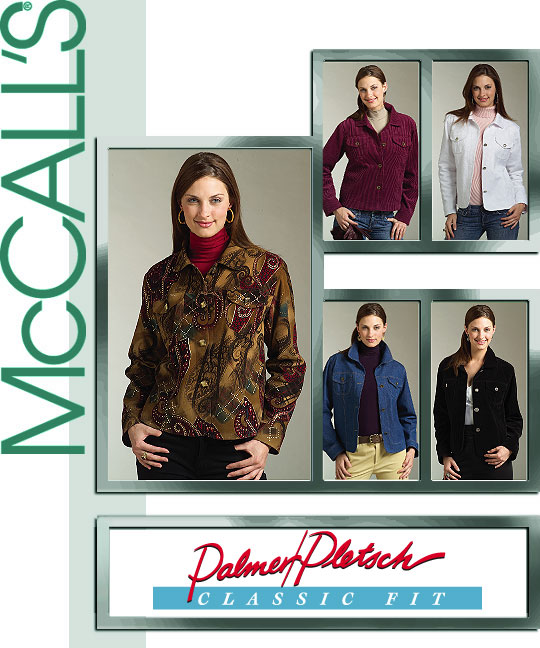 The pattern is McCall's 5191, which is a jeans style
jacket that I've made before
. The fabric is an embroidered moleskin that I bought at JoAnn's long enough ago to not remember when I got it but I know the store I bought it from has been closed a long, long time. The first time I made this jacket, it turned out fantastic. Then I lost weight and I must have given it away, because I can't find it. Then I gained weight back, and I want a new one. The fabric I used the first time was a stretch denim and the moleskin isn't stretchy so it might not fit well right away. But if I work on my goal of getting fit, then maybe a few pounds might disappear and fitting won't be such a problem. Anyway, this jacket is the backbone of my new mini-wardrobe.
Three tops:
This first top is one I haven't made before. I still have to make the muslin before I cut out the pictured fabric. I always have lots of problems with Silhouette Patterns, but maybe this one will work out. I've altered the pattern in ways that I think will work for me. For some reason on the plus sized patterns, Peggy drafts the side seam without any hip shaping. The side seam cuts into the waist from the underarm, but never goes back out for the hip. She does give the smaller sizes hip shape so I don't understand her reason for drafting the larger sizes like this. Doesn't she know that us larger girls have hips? Anyway, this fabric is a thin cotton knit I think I got from Fabric.com in the first half of last year. I didn't think it was going to be so thin, and I expected it to have some stretch since it's a knit, but it hardly has any. So, I think it will work out well for this top since it does have nice drape.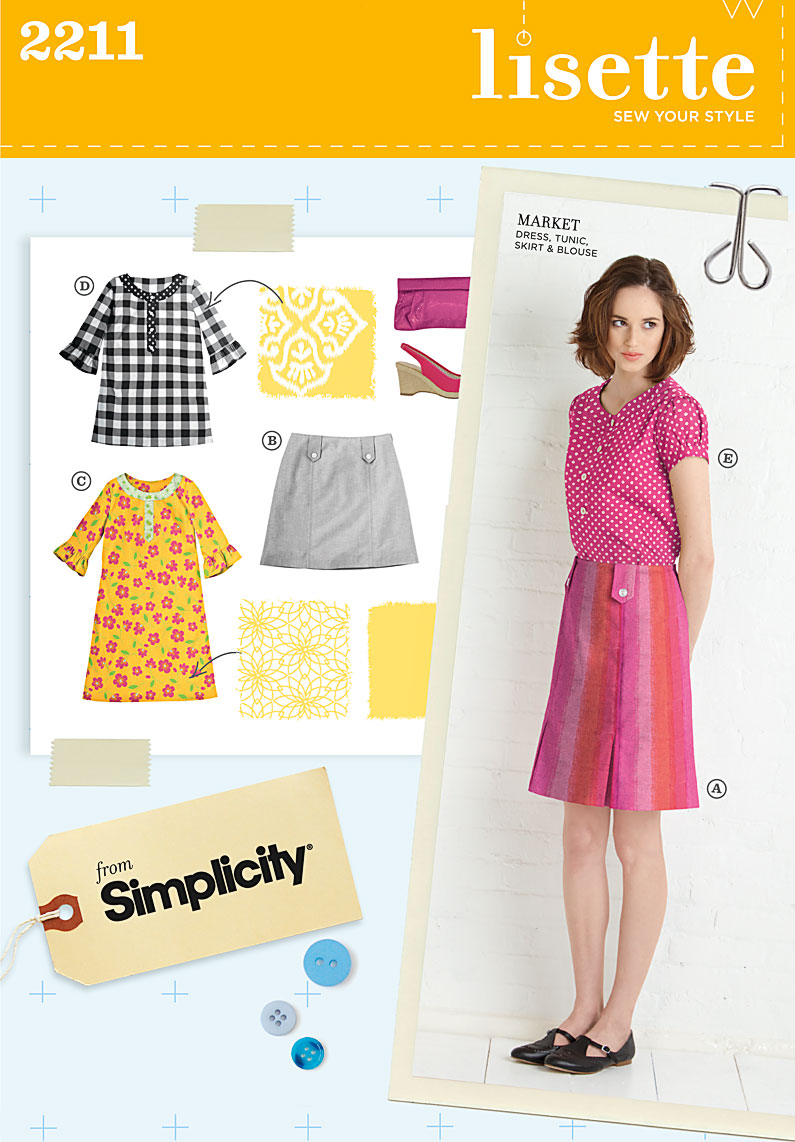 This second top is another new to me pattern. I still have to muslin it as well, but I think it's going to work out great. The stripe will be the body of the blouse and the green solid will be the outside facing/trim. I still need to pick out the buttons that go down the center tab. I'm thinking of using some shirt buttons that my mom had. There are six buttons in various shades of green in different sizes. I'll have to see how they look when the top is done before I decide. I bought these cotton fabrics to make an Indian designed tunic back when they were all the rage, but I think I missed that boat. This pattern is very popular on Patternreview.com. I hope the stripe works well for this pattern.
I have
used this pattern before
, except this time I'm making long sleeves and cutting it tunic length. Just in case one of the other tops doesn't work out, my mini-wardrobe will still have enough tops. You might recognize this poly lycra knit fabric from a
Coldwater Creek knock-off top
that I made a couple of years ago. I gave that top to my niece when I lost weight and she loves it so I won't have two tops with the same fabric in my wardrobe.
Two pair of Pants: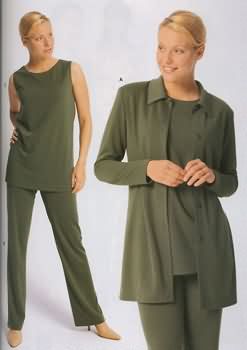 This is my TNT pants pattern, Burda 2569. I've made this pattern at least a dozen times and have loved each and every pair of pants made from it. My last olive pair has very worn out elastic, so it's time to make a new pair. The fabric is showing some wear also, so a new pair is needed. This fabric is a nice RPL that I can't for the life of me remember where I got it. I have enough to make a top or jacket from it as well, and might do that at a later date. I'm also going to be making a pair of black Ponte Roma knit pants from this same pattern. They will be more of a yoga style with the softer knit, but I think will still work with the other garments. It's a rather casual capsule that I can wear to work. Really, anything goes at work. When I sub teach in the severely handicapped classrooms, I like to dress more casual than usual, so this is a casual weekend/work wardrobe.
This plan should take me up to around 12-13 yards of stash fabric used in January. That's about half my goal so it will be a great start. I already have the jacket cut out and hope to get the rest cut out before the weekend, including sewing up muslins before cutting into the good fabric for those two blouse patterns. I sure don't make things easy for myself, do I?