A week ago Friday I was rear-ended on the freeway. Luckily no one was hurt, except the cars. My '05 Pontiac Grand Am was totaled. At first I was upset since I only had a year and a half left to pay on it. However, now that I have my dream car, I'm not so sad anymore. I never did really like the Grand Am. It was a compromise when I had a choice to either buy a used car and go to Italy or buy a new Ford Fusion.
This car is a 2010 Ford Fusion SE but it has over 20,000 miles on it so I bought it for a steal. I love my new car! Already today, I was stopped in the parking lot by a man who wanted to ask me about my lovely car. He wanted one as well. After all, it was voted
Car of the Year
by Motor Trend.
Besides dealing with the insurance company, rental agency, and shopping to buy another car, I did have a chance to pick out some fabrics for some summer sewing. Last summer I made a
mini SWAP in red and black
. None of those pieces fit any longer so I've decided to make another red and black wardrobe. From left to right: Top row - Black RPL for pull-on pants, white jaquard stretch twill for white skirt, b/w animal print poly mesh for top, Red cotton knit w/black trim for top, Bottom row - gray RPL for pull-on pants, black/gray herringbone for jeans, red/black poly lycra knit for dress, and white dotted swiss for blouse. I have some red capris and some black burmuda shorts that will go great with this wardrobe. I understand that black/white is big this summer and I've added a splash of red since it's a color I look good in.
Besides making this wardrobe, I have seven dresses to make for my son's acting troup which will performing The Wizard of Oz late in July. I'm making the dresses for the rainbow dancers.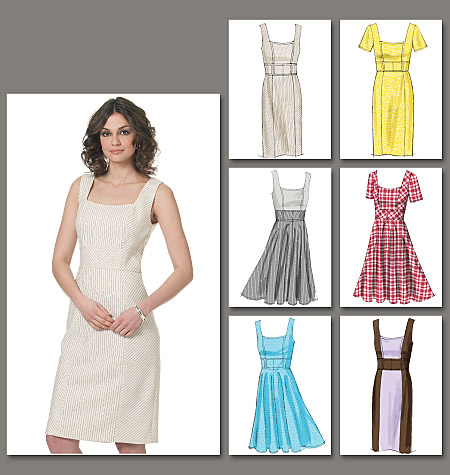 I'll be making the one with the full skirt and I need to add a short puffed sleeve with a cuff. They will all be in rainbow shades of poly satin with sequin trim at the waist and sleeve cuff. I also have to add a satin ruffle at the neckline, which with this pattern, will be easy to do. Wish me luck with the fitting. Luckily they are only costumes and don't have to look perfect. But you all know, I'll probably make them look much better than I have time for and the fit will drive me crazy!