My son (isn't he cute?) wanted to attend the Anime Expo this year and since he'll be 15 yo next month, I decided to let him go without his parents, ACK! My nephew, who has an emotional disability and is almost 30 yo went with him. They both have about the same maturity at some level, but my nephew is great with kids and knows how to keep them safe. The reason I'm telling you this is because I had to drive him into Los Angeles to the Convention Center this morning. AND since I couldn't let a trip downtown go to waste, I just had to stop a few blocks away at the garment district. I hit the jackpot with poly/lycra jerseys! I see a wrap dress in my future.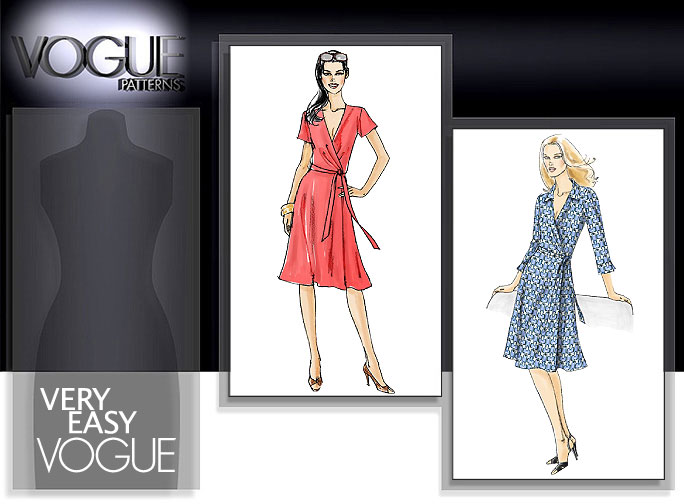 Melody
and
Michelle
have both made this pattern, Vogue 8379 and I want to make it too. They both look so lovely in this wrap dress and they both got good bustline coverage with only a FBA. I'll have to do a FBA and a few other alterations too.
This is a low quality poly lycra jersey I bought at Michael Levine's Loft where all the fabric is $2 a pound. That worked out to around $1.33/yd. for me today. It's sort of like dumpster diving, however. You never know what you're going to get, but you can be sure it'll be dusty and wrinkled at the very least. I got 5 yards of this lavender and turquoise jersey to use as a muslin for my wrap dress. It's a bit pretty in a gaudy sort of way. If a muslin actually worked out the first time, I'd probably drop dead so there isn't any worry that I'd actually wind up wearing this fabric.
This one is a good quality poly/lycra jersey I got at Mikey's on 9th street. It was $4 yd and has such a lovely hand. This is what my wrap dress will be made from when I get the pattern perfected. The back ground is a dark brown which is a great fabric color to start my fall sewing with.
If I feel the need for another wrap dress once I get the first one finished, I think this snakeskin print will make a nice second dress. It came from the Loft as well.
This is another $2 pound fabric, but I saw it in the regular store for $5/yd. It's rayon/lycra and I was lucky enough to find 1.5 yards of it. It will be a new top in the fall.
These two were at the Loft too. I don't have a garment in mind for them, but I thought they were nice enough to follow me home.
This animal print came from the mill end store close to my house. They don't get new fabrics in very often, but I hadn't seen this one before and had to pick up 1.5 yards for a fall t-shirt of some sort.
Just one more week until the opening of my son's play. I may have mentioned that he's playing a mobster in Annie for a local production of the play. They will have 12 performances and it will run for two weeks. Then my life can get back to normal. I haven't been able to sew for myself this week because I have been working on costumes for the play. Above is the Christmas dress that Annie will be wearing. I still have to make her another dress, it will be pink striped with lace. Annie who is usually a small child was cast with a 14 yo girl who has developed into quite the young woman. None of the costumes for the play fit her. I've also been doing alterations and stitching on trim and such.
I want to wish everyone a happy and safe Fourth of July. My birthday is on Monday so my twinsis and I will be visiting Disneyland. They are having a Celebration Campaign this year where you get to go free on your birthday. Neither one of us will have to pay! What a very nice present for both of us.